REFRESH REJUVENATING EYE SERUM
A unique and effective multi-purpose eye serum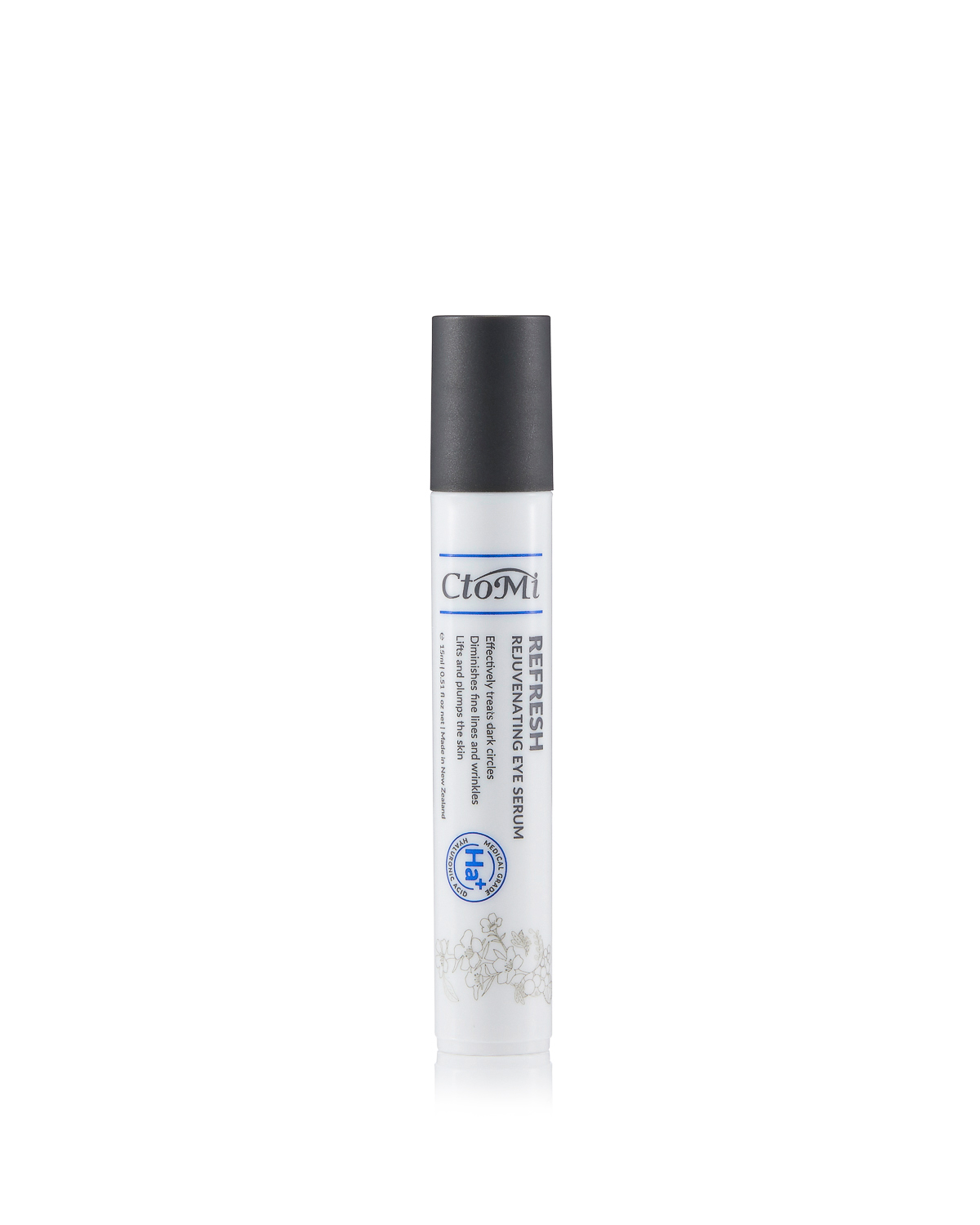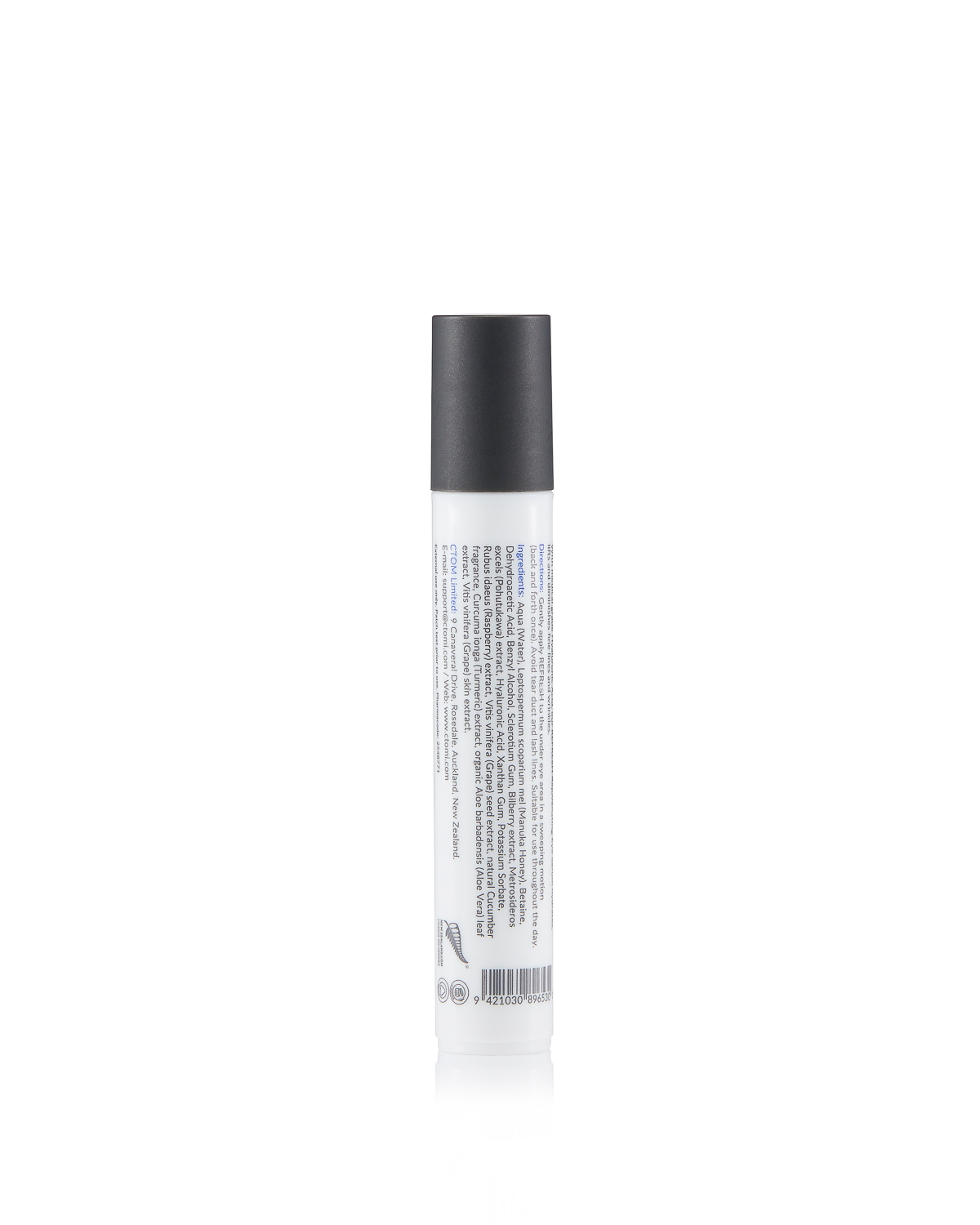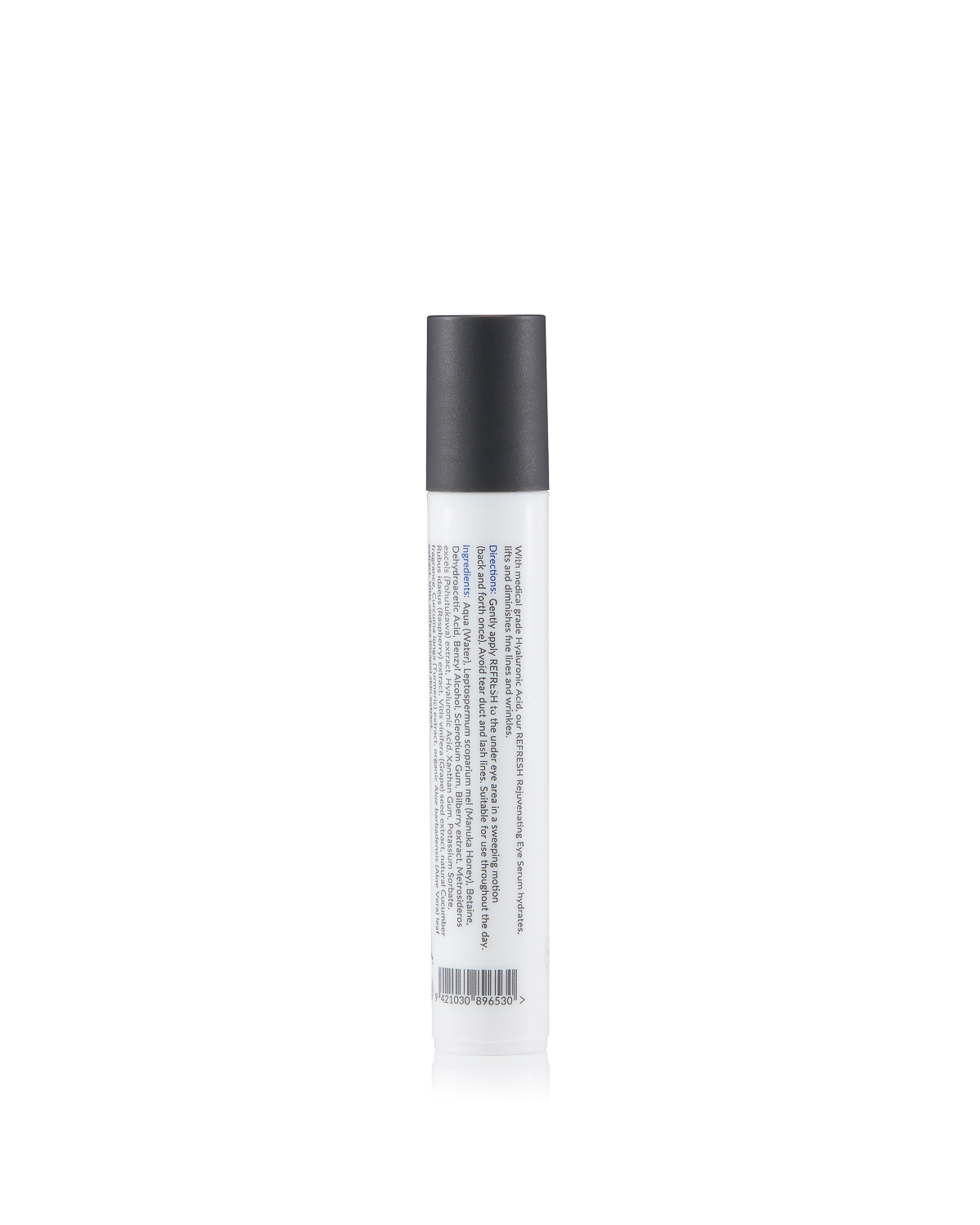 Product image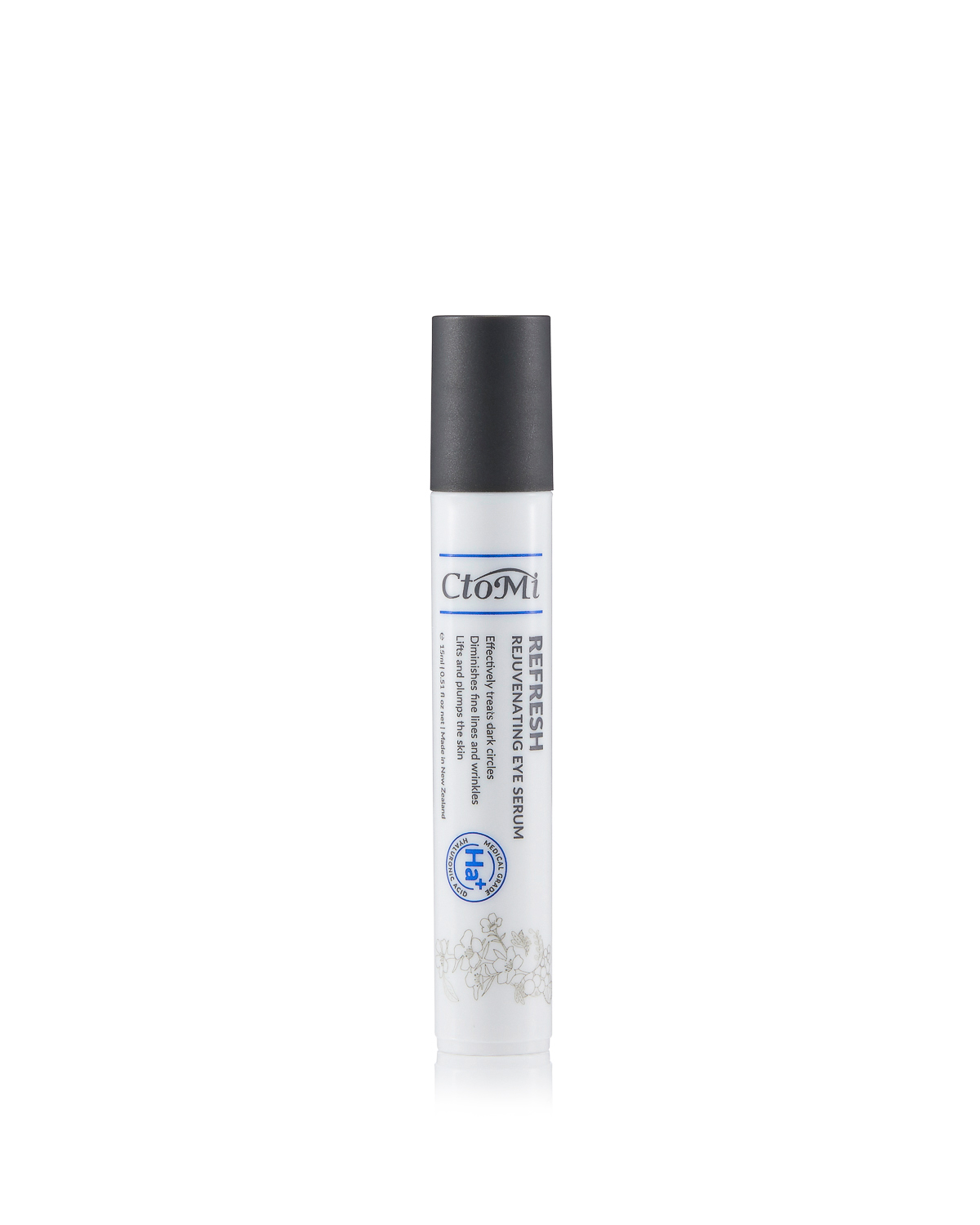 Product image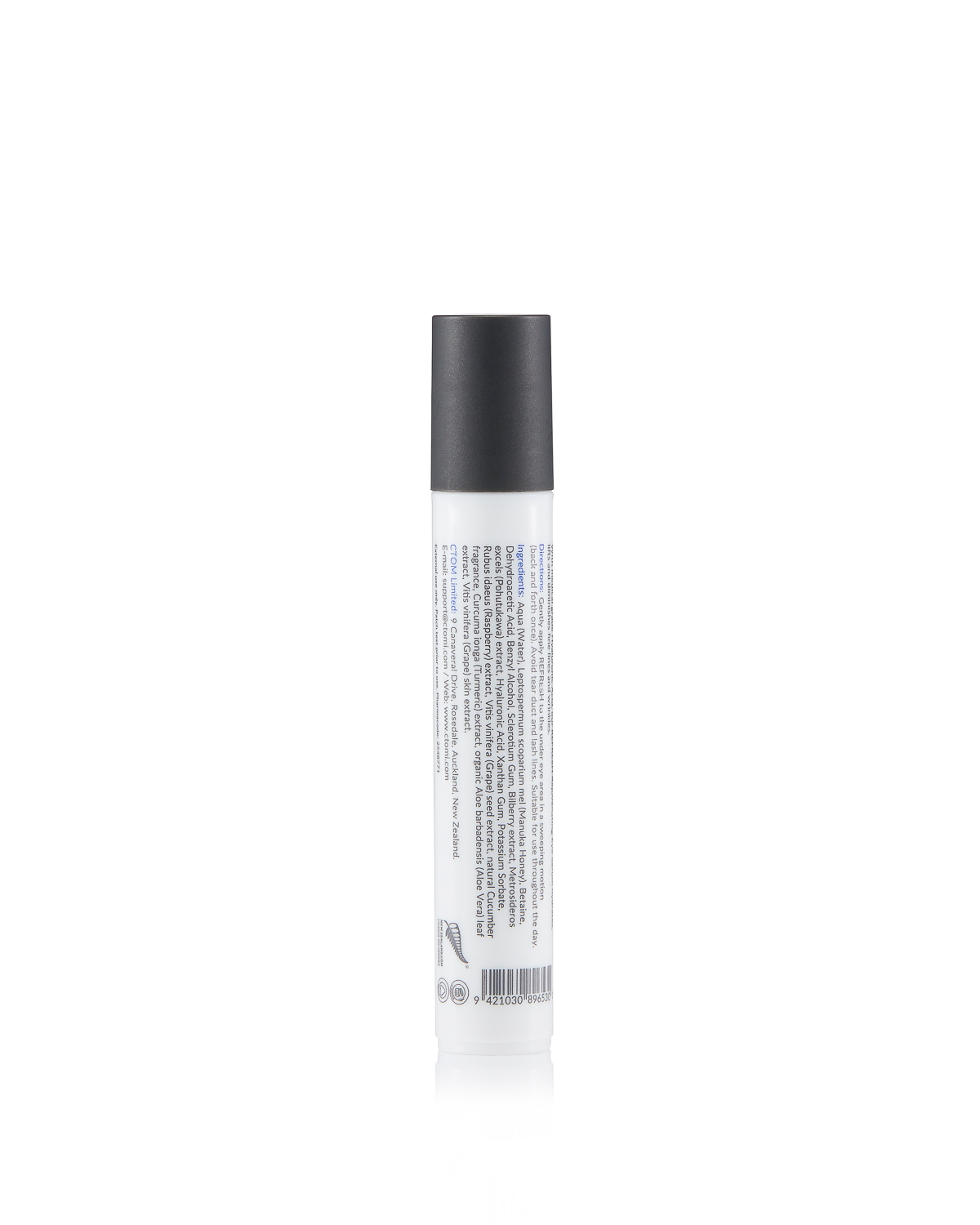 Product image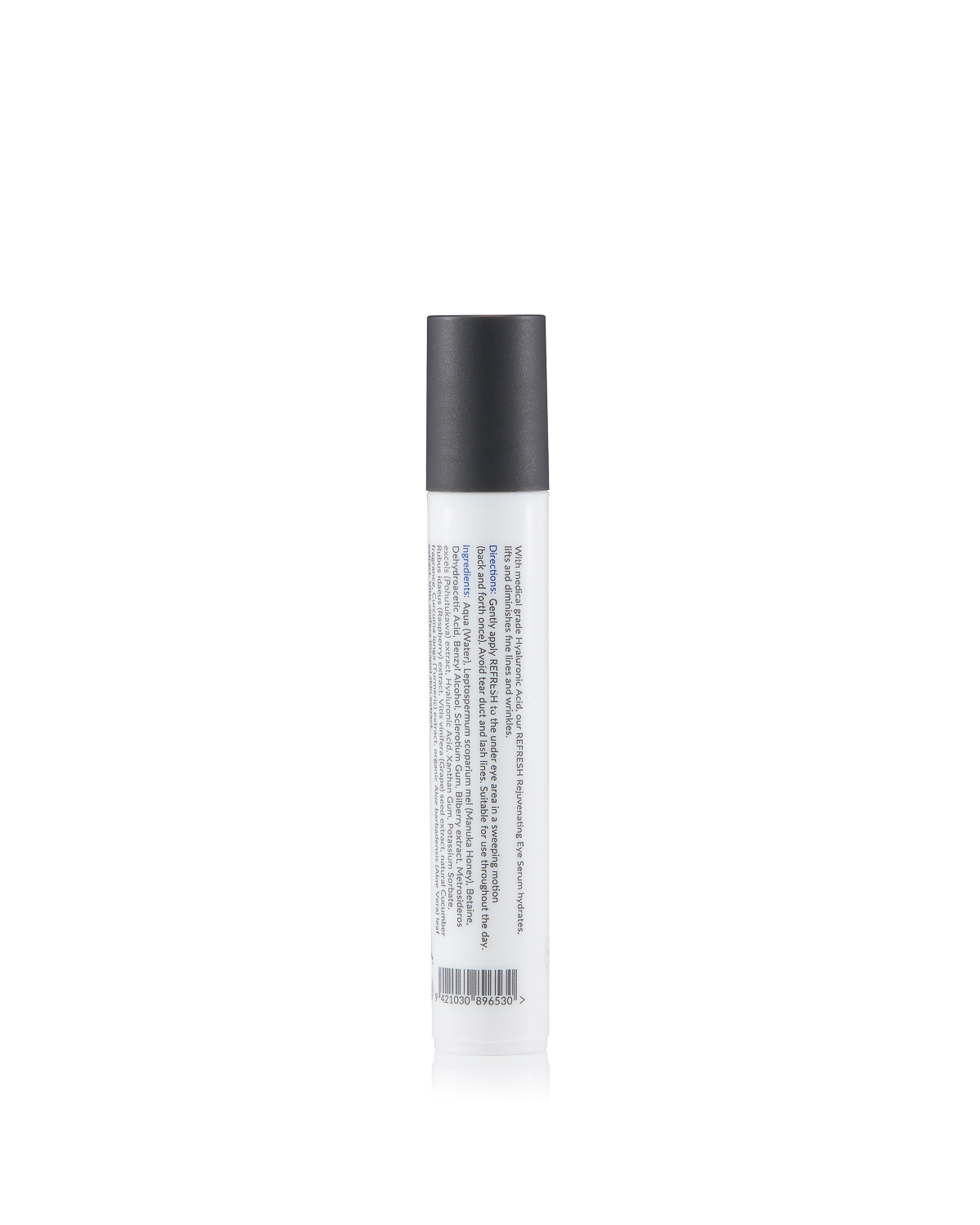 Overview
REFRESH is a unique and effective multi-purpose eye serum that has been formulated for people who are concerned about fine lines, wrinkles, sagging and dark patches under the eyes. The serum is all-natural and includes medical grade hyaluronic acid, which keeps skin refreshed, stable and encourages skin cell renewal. Bilberry extract helps improve vision focus during long periods of screen time. This is the ideal product for people who work office jobs, or spend a lot of time on their phone.
Key Ingredients
Medical Grade Hyaluronic Acid is renowned for its ability to hold moisture, helping to lift and plump the skin under the eyes, diminishing fine lines and wrinkles. Hyaluronic Acid is a smart nutrient, adjusting its moisture levels depending on the levels of humidity.
Vinanza Grape Skin & Seed Extract is taken directly from pure, Sauvignon Blanc grapes which are grown in the world-class Marlborough vineyards of New Zealand. Because of Marlborough's close proximity to the hole in the ozone layer, Vinanza grapes have grown stronger seeds and thicker skin in order to adapt to high levels of ultra-violet light. As a result, leading scientists have recently discovered that these grapes have double the levels of polyphenolic antioxidants (which encourage skin-cell renewal, enhancing youthfulness) than any other grapes globally.
Bilberry Extract has high levels of anthocyanins that help to improve blood flow to the eyes, fighting free radical damage that can often affect the cornea, macula and retina. In particular, bilberry is effective in protecting the eye and re-adjusting focus in blue light situations, improving vision sharpness and protecting photoreceptor cells from the damaging effects of blue light.
Highlights
Diminishes fine lines and wrinkles
Pumps the skin, reducing sagging and improving tone
Prevents irritations, scaling and dry skin from forming under the eyes
Protects photoreceptor cells from the damaging effects of blue light
Unique roller-ball applicator
Ideal for people who

Want to diminish fine lines and wrinkles under the eyes

Struggle with dark circles and bags under the eyes

Lose vision focus with extended periods of screen time

Are looking to protect photoreceptor cells from blue light
Directions
Gently apply REFRESH to the under eye area in a sweeping motion (back and forth once). Avoid tear duct and lash lines. Allow to air dry. Suitable for use throughout the day.
Ingredients
Aqua (Water), Leptospermum scoparium mel (Manuka Honey), Betaine, Dehydroacetic Acid, Benzyl Alcohol, Sclerotium Gum, Bilberry extract, Metrosideros excels (Pohutukawa) extract, Hyaluronic Acid, Xanthan Gum, Potassium Sorbate, Rubus idaeus (Raspberry) extract, Vitis vinifera (Grape) seed extract, natural Cucumber fragrance, Curcuma ionga (Turmeric) extract, organic Aloe barbadensis (Aloe Vera) leaf extract, Vitis vinifera (Grape) skin extract.
Precautions
Keep out of reach of children. Patch test before use. Store in a cool, dry place. Colour and clarity may differ between products due to natural content.
Triple Guarantee
1. Free and easy returns
If you are not 100% satisfied with your purchase for any reason, you can return it within 30 days for a full refund

2. Safe with us
Our website is 100% verified and all transaction and customer information is securely encrypted with the latest technology

3. Have a question?
We have a helpful customer service team who live and breathe Ctomi email info@ctomi.co.nz
Delivery Information
At Ctomi, we make things easy. Shipping is free for orders over $50 and for orders under this amount, shipping is as cheap as chips.
All orders leave our premises on the next working day.
Ctomi is a NZ owned and operated business, operating out of our HQ at 9 Canaveral Drive, Rosedale, Auckland
reviews