GINKGO BILOBA 6,000
Supports brain health and focus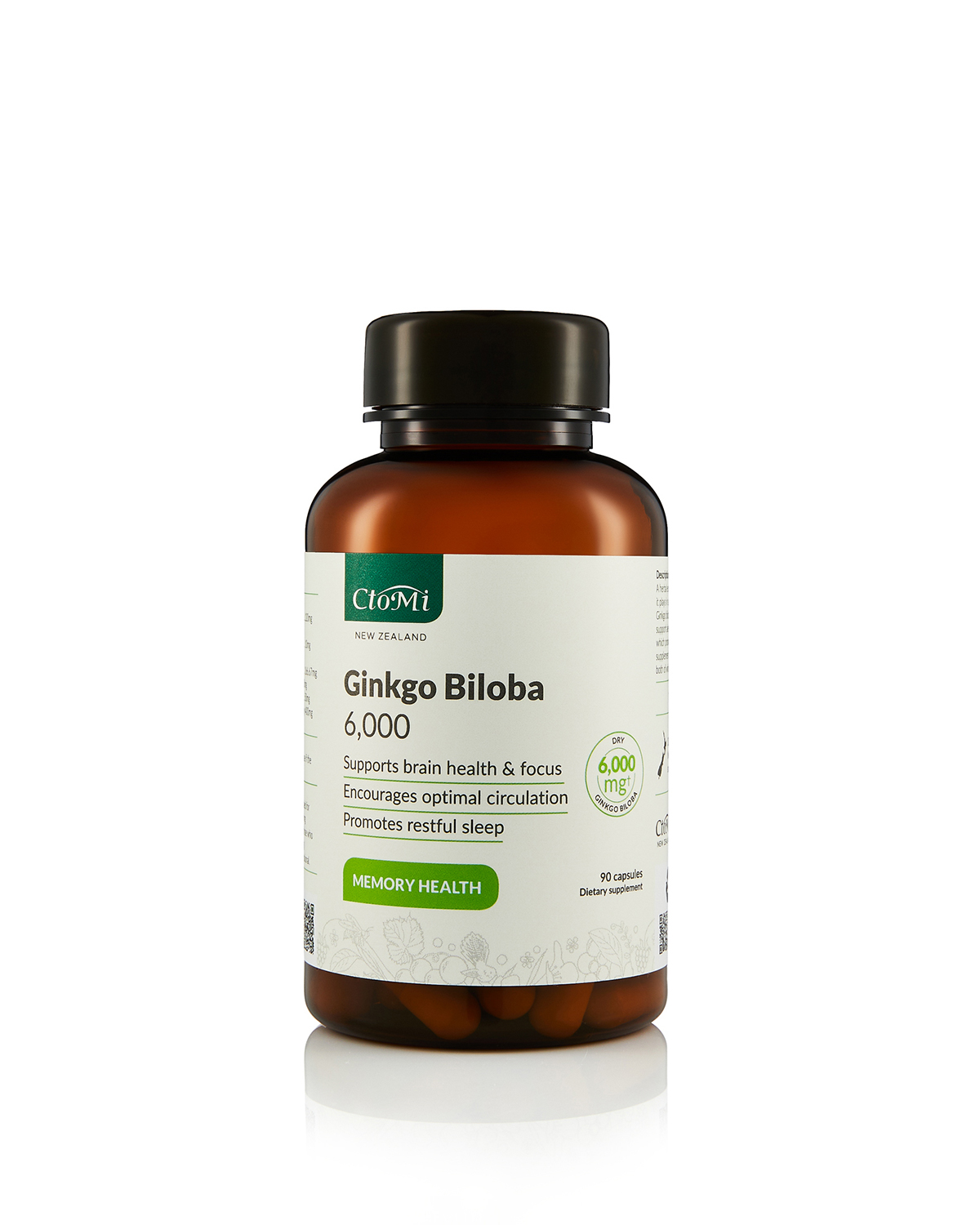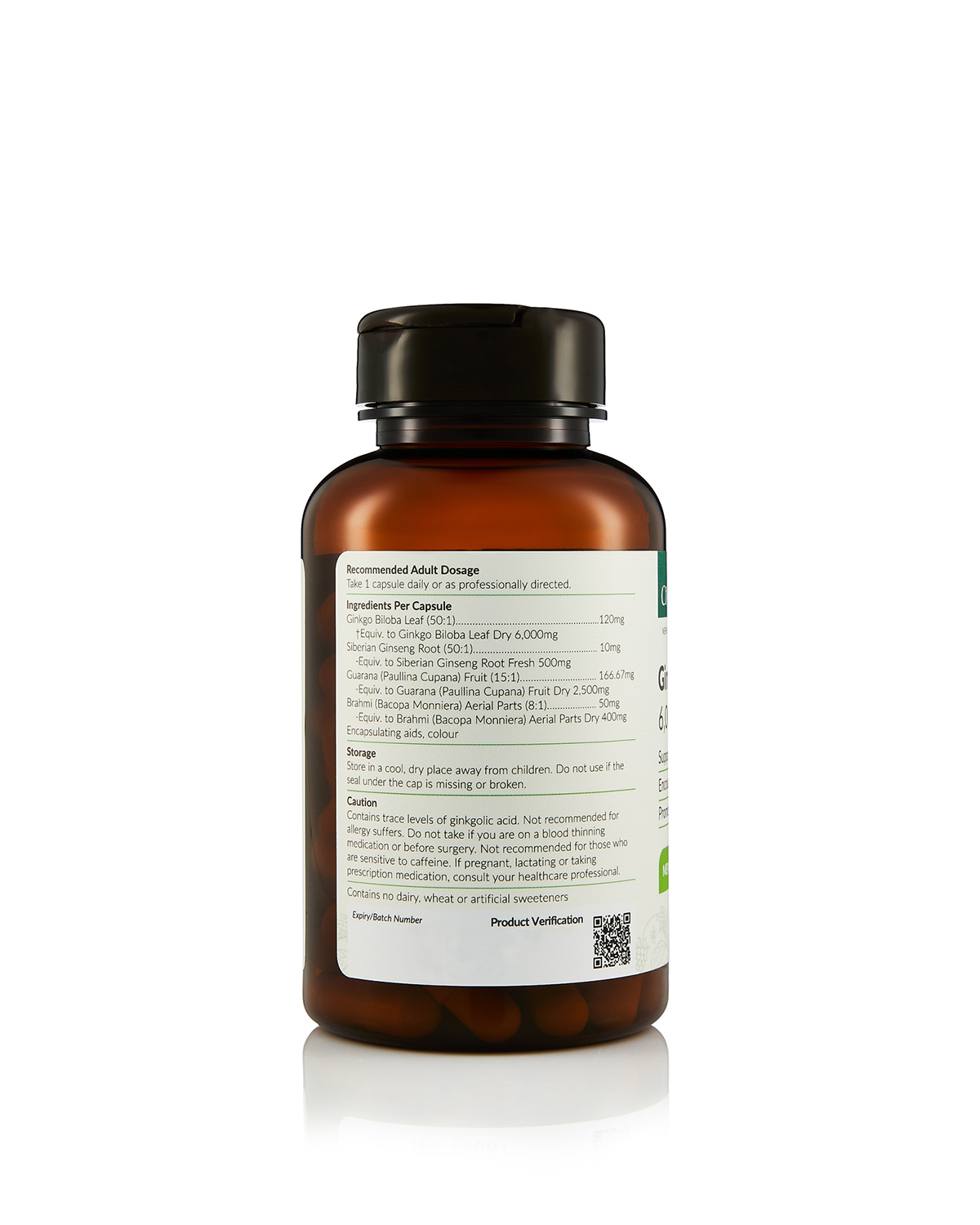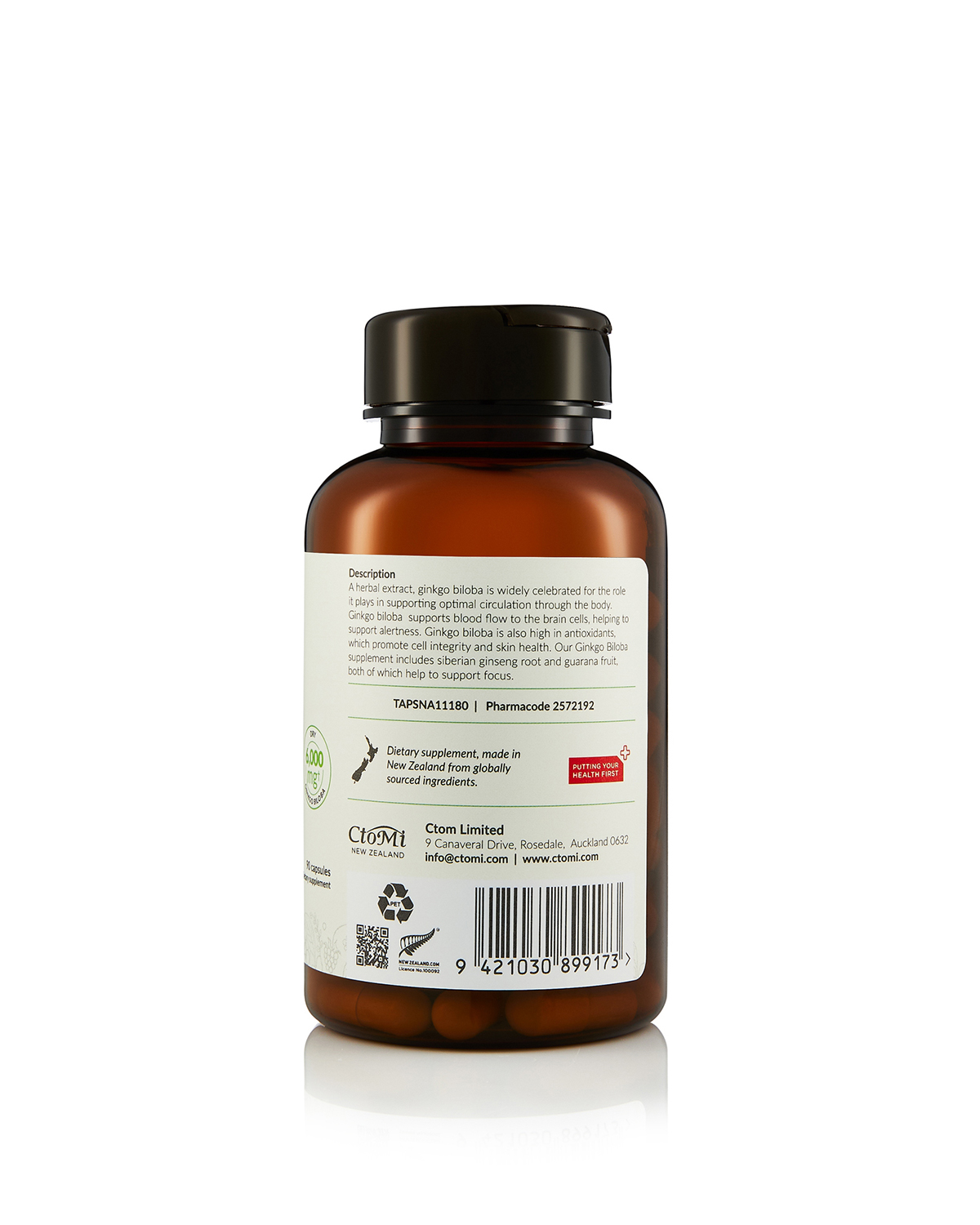 Product image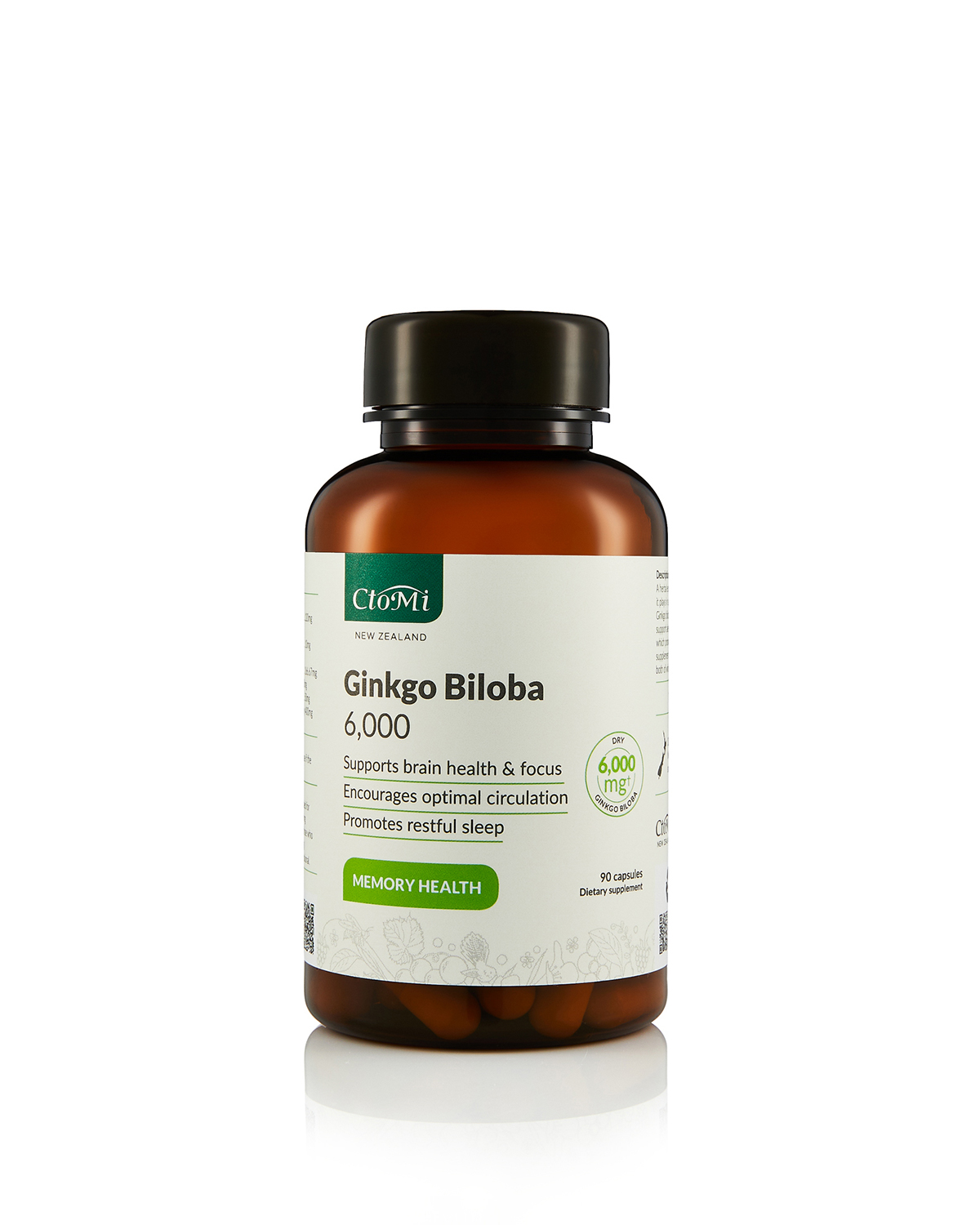 Product image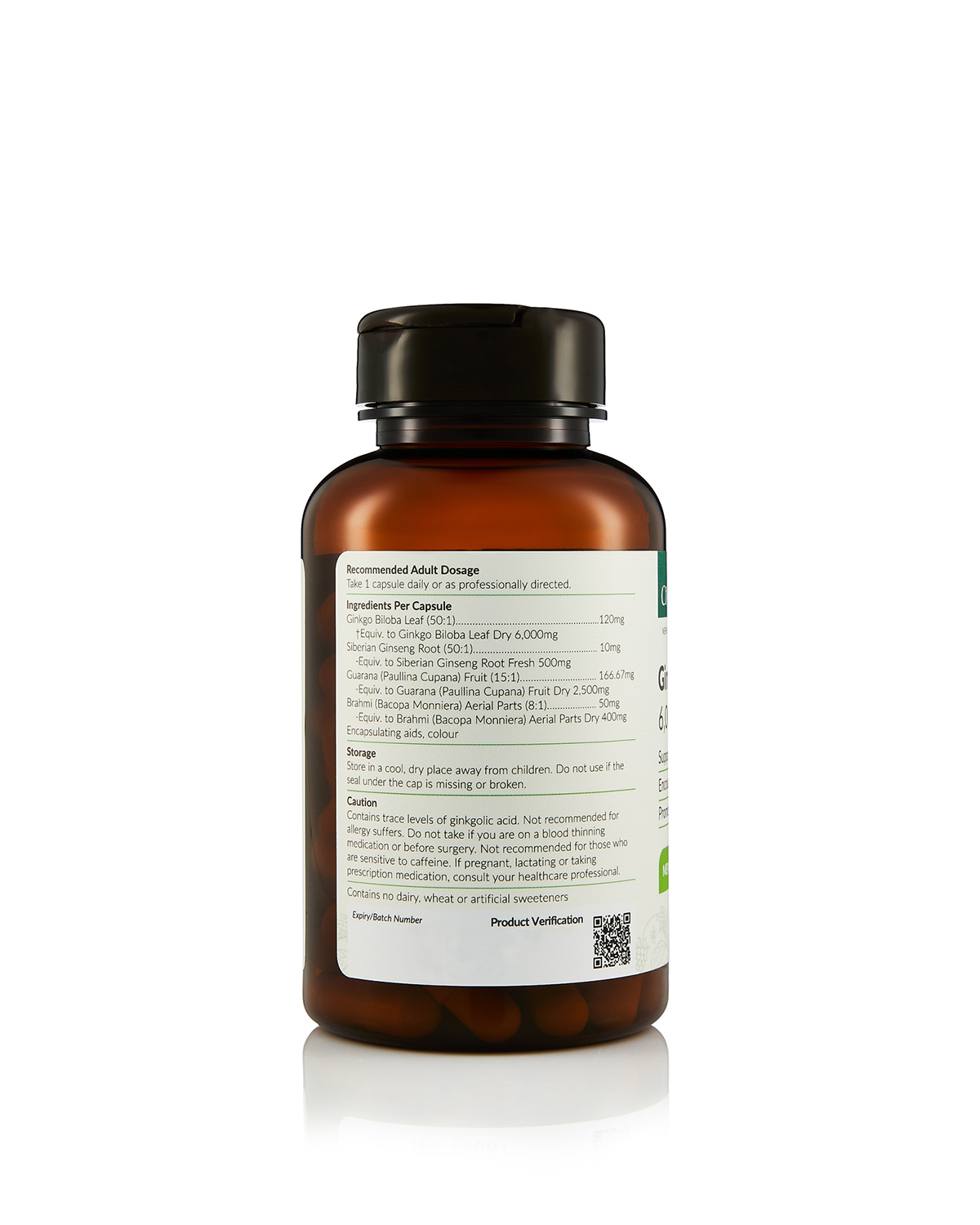 Product image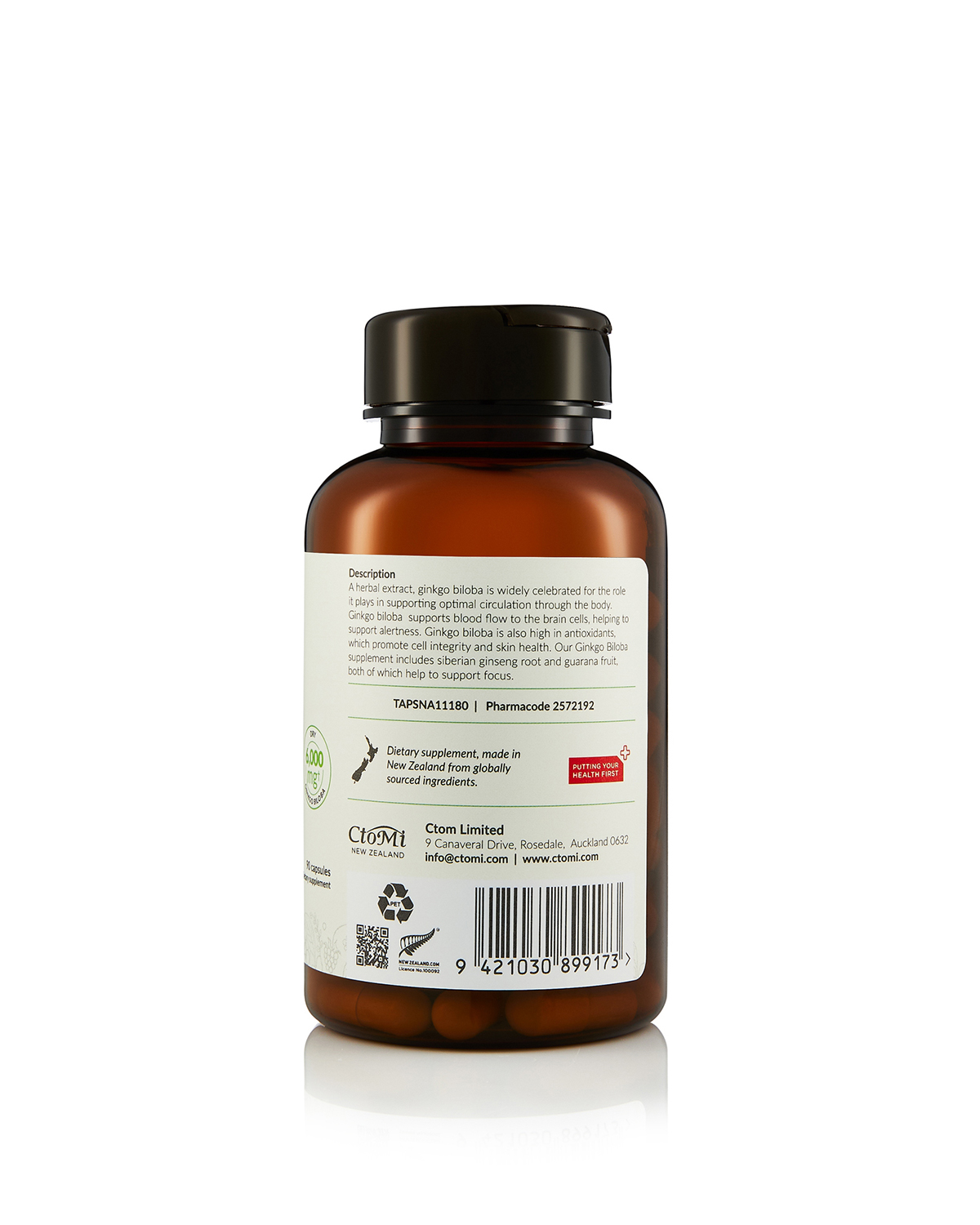 Overview
A natural extract derived from the leaf of the maidenhair tree, ginkgo biloba has been widely celebrated for its anti-inflammatory, antioxidant and circulation-boosting effects. Ginkgo biloba helps to support healthy skin and cognitive functions and has also been attributed to healthy energy, memory and mood levels. Ginkgo biloba has high concentrations of two active constituents; flavonoids and terpenoids. Flavonoids are plant-based antioxidants that help to support healthy nerve, heart, blood and retina functions. Terpenoids help to dilate blood vessels, improving blood flow which in turn supports healthy brain activity. 
Our Ginkgo Biloba supplement also contains siberian ginseng root and guarana fruit to help naturally increase energy levels during the day.
Highlights
Promotes increased energy levels 
Supports brain health & focus 
Encourages optimal circulation 
Enhances natural sleep patterns
Ideal for people who

Work or study hard and want to increase focus levels

Lack energy and want stimulation 
Enhance athletic performance by increasing circulation 
Directions
We recommend taking 1 capsule daily or as professionally directed
Ingredients
Each Capsule Contains:

Ginkgo Biloba Leaf (50:1) 120mg
-Equiv. to Ginkgo Biloba Leaf Dry 6,000mg
Siberian Ginseng Root (50:1) 10mg
-Equiv. to Siberian Ginseng Root Fresh 500mg
Guarana (Paullina Cupana) Fruit (15:1) 166.67mg
-Equiv. to Gurana (Paullina Cupana) Fruit Dry 2,500mg
Brahmi (Bacopa Monniera) Aerial Parts (8:1) 50mg
-Equiv. to Brahmi (Bacopa Monniera) Aerial Parts Dry 400mg
Encapsulating aids, colour
Precautions
Contains trace levels of ginkgolic acid. Not recommended for allergy suffers. Do not take if you are on a blood-thinning medication or before surgery. Not recommended for those who are sensitive to caffeine. If pregnant, lactating or taking prescription medication, consult your healthcare professional. Store in a cool, dry place away from children. Do not use if seal under the cap is missing or broken.
Triple Guarantee
1. Free and easy returns
If you are not 100% satisfied with your purchase for any reason, you can return it within 30 days for a full refund

2. Safe with us
Our website is 100% verified and all transaction and customer information is securely encrypted with the latest technology

3. Have a question?
We have a helpful customer service team who live and breathe Ctomi email info@ctomi.co.nz
Delivery Information
At Ctomi, we make things easy. Shipping is free for orders over $50 and for orders under this amount, shipping is as cheap as chips.
All orders leave our premises on the next working day.
Ctomi is a NZ owned and operated business, operating out of our HQ at 9 Canaveral Drive, Rosedale, Auckland
reviews