NOURISH RESTORATION CONDITIONER FOR WOMEN 300ML
With natural actives for strong, shiny hair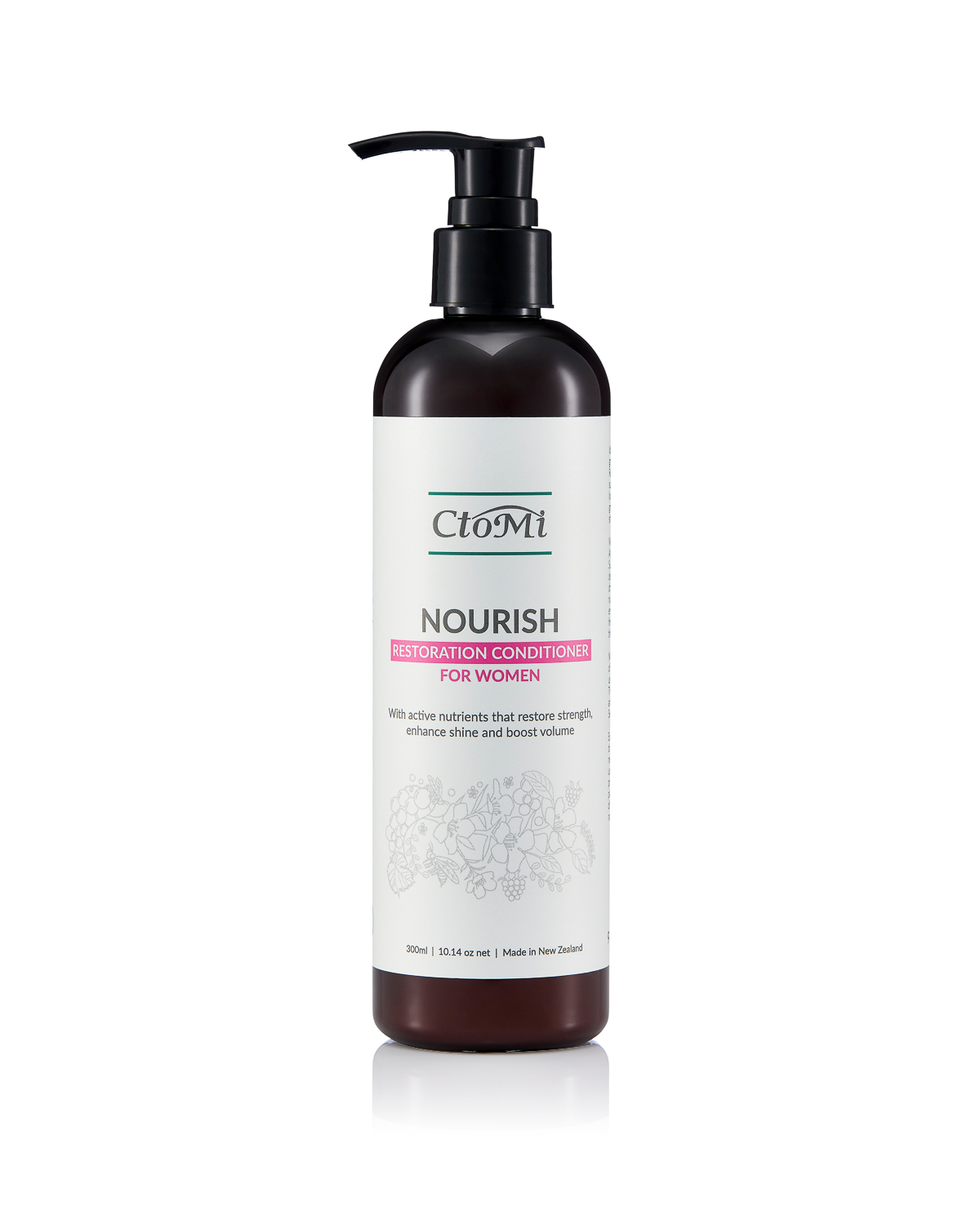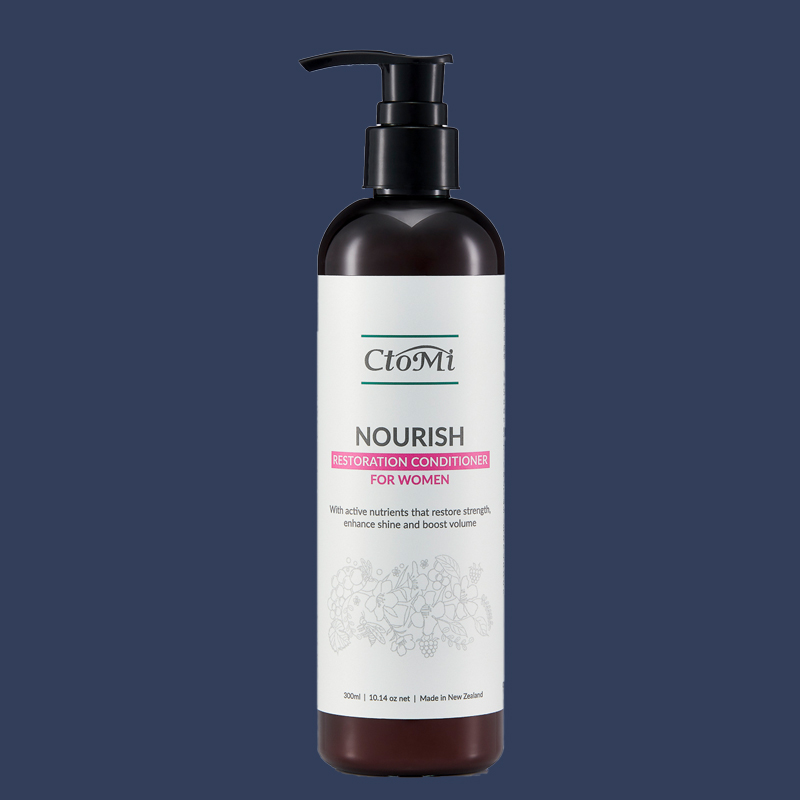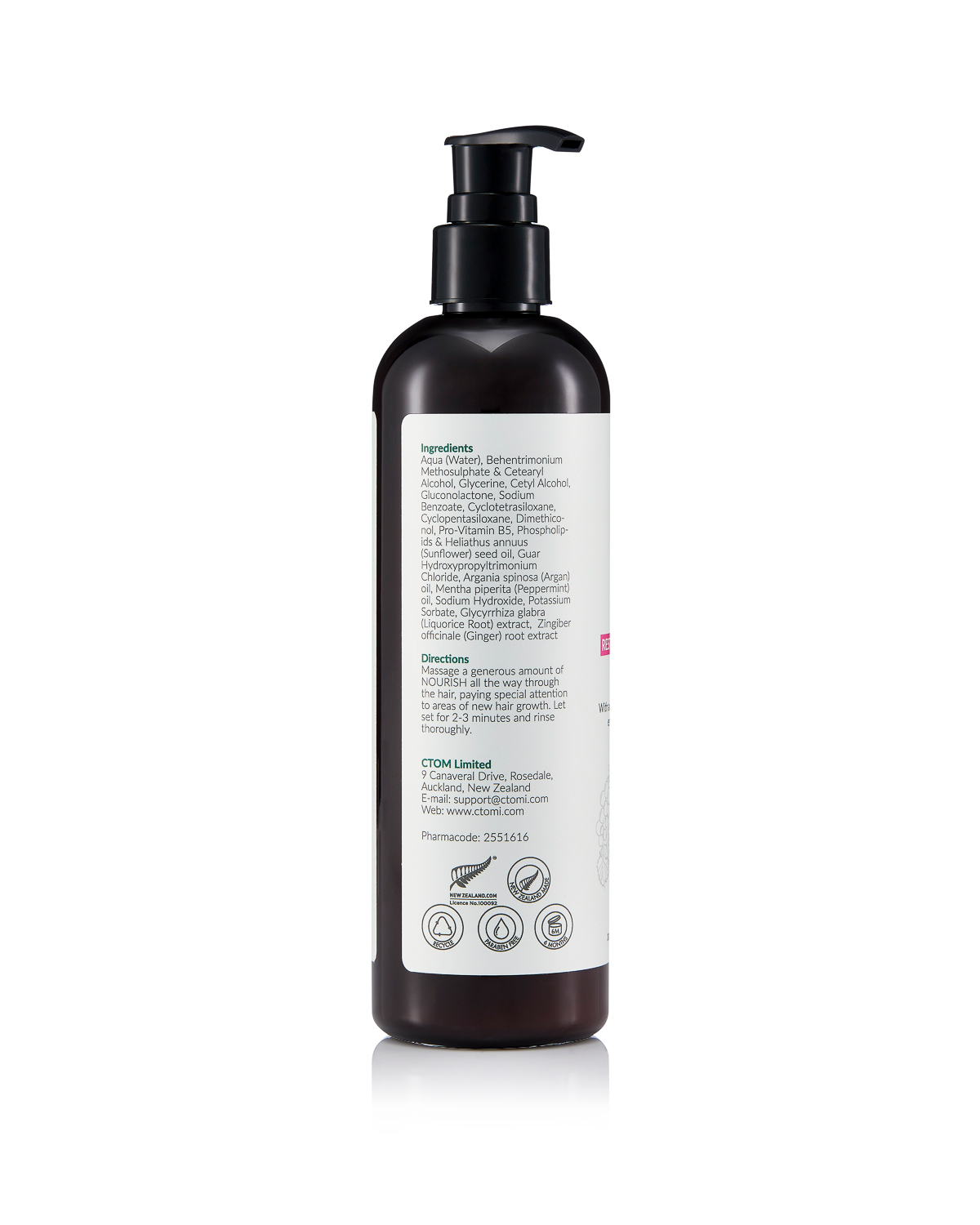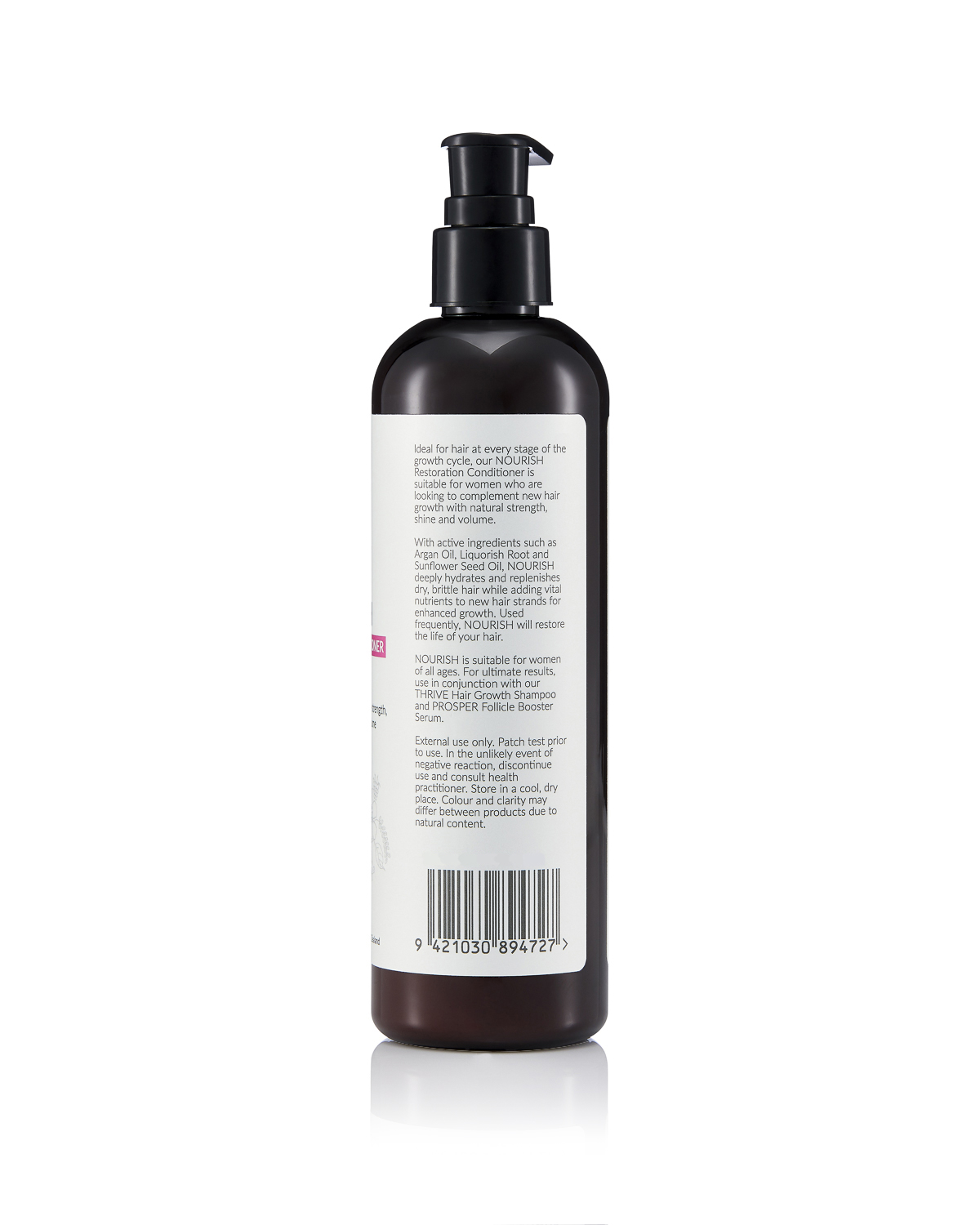 Product image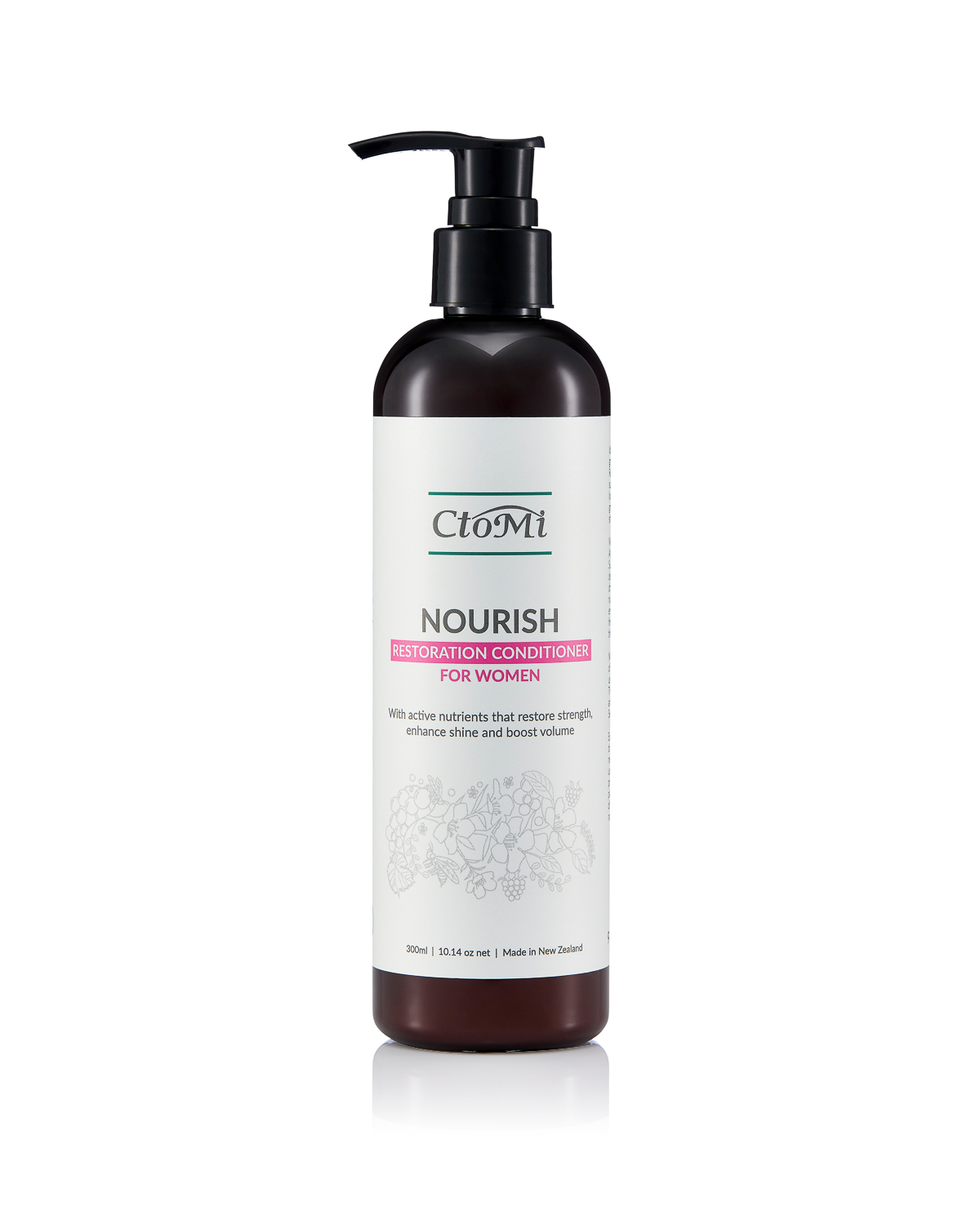 Product image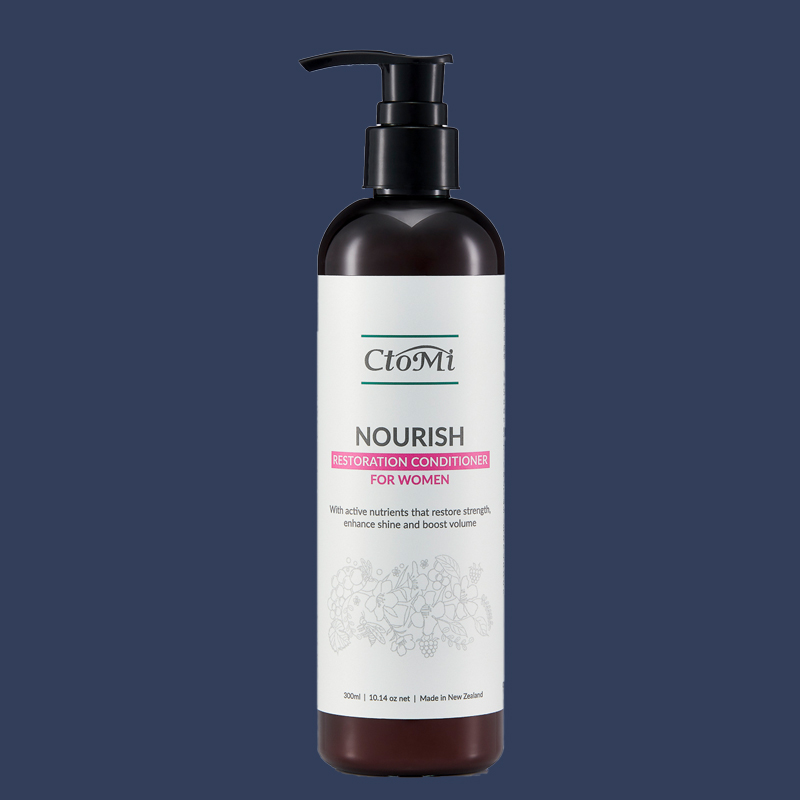 Product image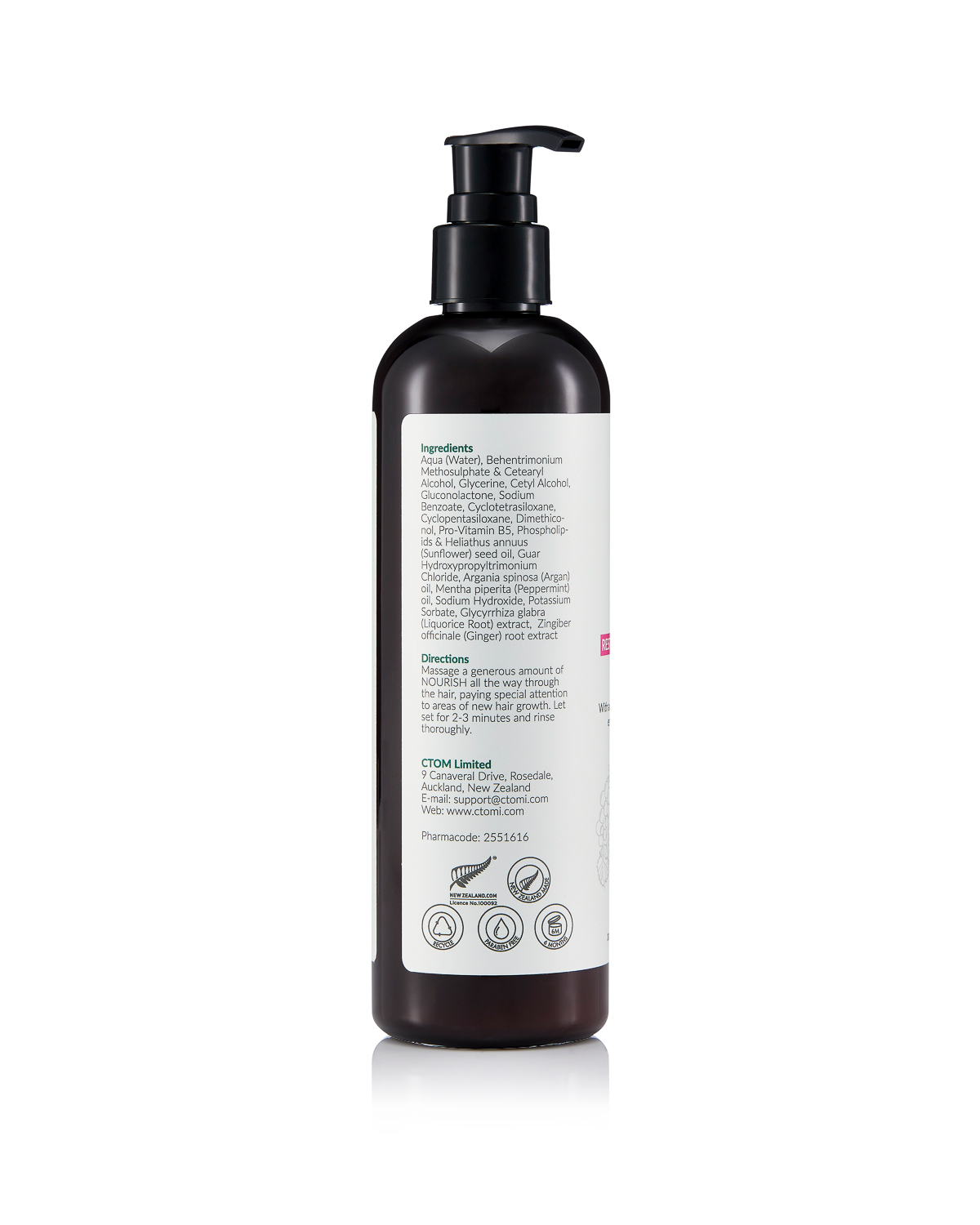 Product image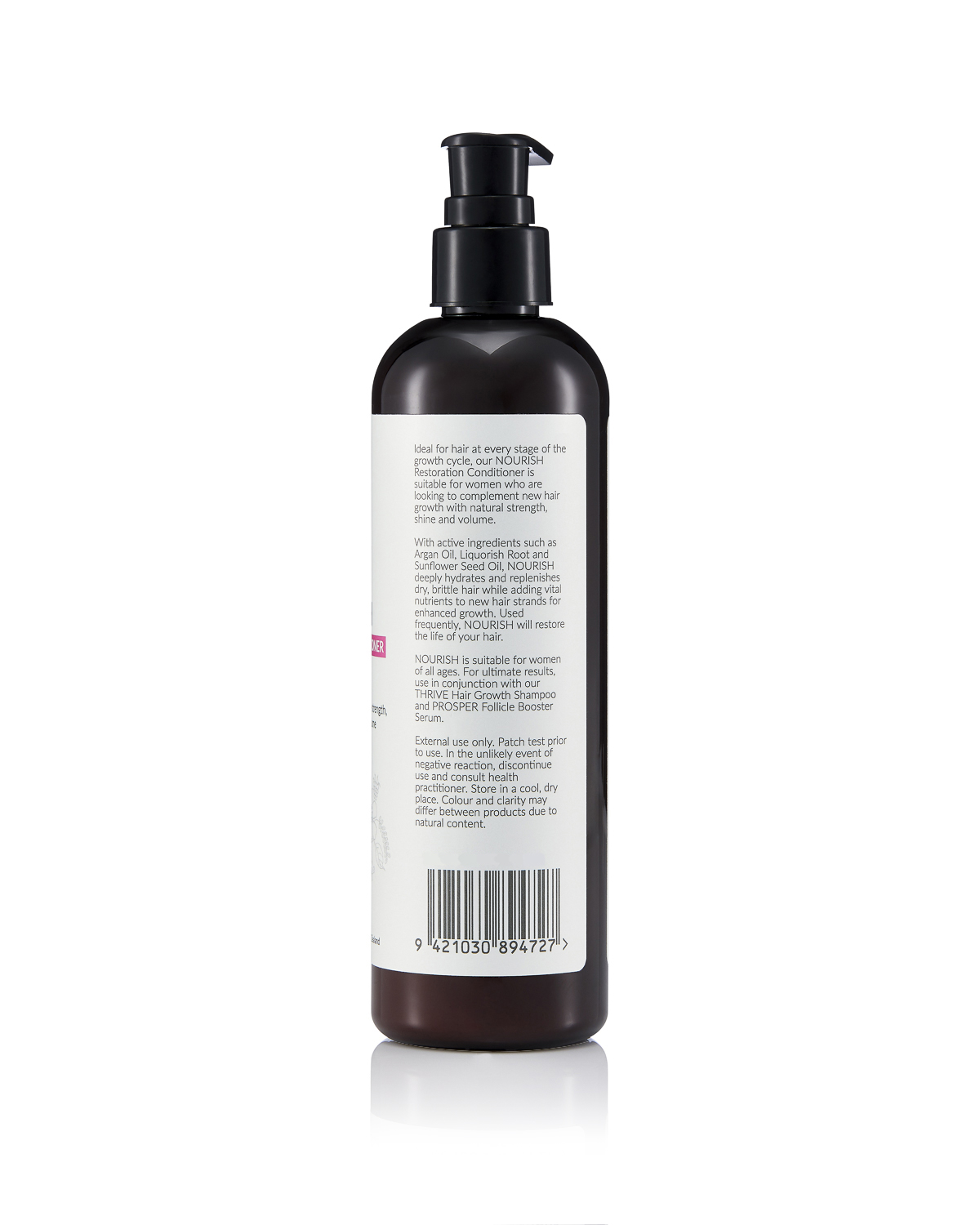 Overview
Specifically designed to work in conjunction with THRIVE Hair Growth Shampoo and PROSPER Follicle Booster Serum, our NOURISH Restoration Conditioner for Women is full of natural actives that work hard to restore shine, boost volume and bring life to hair. With nutrients such as sunflower seed oil, argan oil, ginger root extract 
and
 peppermint oil, NOURISH works its way into individual hair strands, not only strengthening the root of the hair but repairing split ends, adding shine and providing much-needed moisture to hair that is dry and brittle. NOURISH actively protects new hair growth from the root upwards, giving your hair every chance to thrive for years to come.
Highlights
Full of vitamins and minerals that create fullness and enhance shine
Strengthens individual hair strands from the root through to the tip of the hair 
Argan oil helps tame fizz
Ginger root extract contains magnesium, potassium and phosphorous- all essential nutrients for your hair
Ideal for people who

Have been using our THRIVE shampoo and want to help protect new hair growth
Want to give their hair a boost of shine and volume
Have issues with dandruff and want to re-balance moisture levels within the scalp
Want to feed the scalp with essential nutrients
Directions
Place a small amount of NOURISH on the palm of the hand and slowly rub through wet hair, paying special attention to the tops of the hair. Allow 2 minutes for the conditioner to work down towards the hair root. Rinse thoroughly. Can be used daily.
Ingredients
Aqua (Water), Behentrimonium Methosulphate & Cetearyl Alcohol, Glycerine, Cetyl Alcohol, Gluconolactone, Sodium Benzoate, Cyclotetrasiloxane, Cyclopentasiloxane, Dimethiconol, Pro-Vitamin B5, Phospholipids & Heliathus Annus (Sunflower) Seed Oil, Guar Hydroxypropyltrimonium Chloride, Argania Spinosa (Argan) Oil, Mentha Piperita (Peppermint) Oil, Sodium Hydroxide, Potassium Sorbate, Glycyrrhiza Glabra (Liquorice Root) Extract, Zingiber Officinale (Ginger) Root Extract
Precautions
External use only. Test a small amount before use. In the unlikely event of negative reaction, discontinue use and consult health practitioner. Store in a cool, dry place. Colour and clarity may differ between products due to natural content. THRIVE's effectiveness may differ between women and hair growth is not guaranteed.
Triple Guarantee
1. Free and easy returns
If you are not 100% satisfied with your purchase for any reason, you can return it within 30 days for a full refund

2. Safe with us
Our website is 100% verified and all transaction and customer information is securely encrypted with the latest technology

3. Have a question?
We have a helpful customer service team who live and breathe Ctomi email info@ctomi.co.nz
Delivery Information
At Ctomi, we make things easy. Shipping is free for orders over $50 and for orders under this amount, shipping is as cheap as chips.
All orders leave our premises on the next working day.
Ctomi is a NZ owned and operated business, operating out of our HQ at 9 Canaveral Drive, Rosedale, Auckland
reviews