HAIR & FOLLICLE NUTRITION 1000MG
For healthy hair and follicles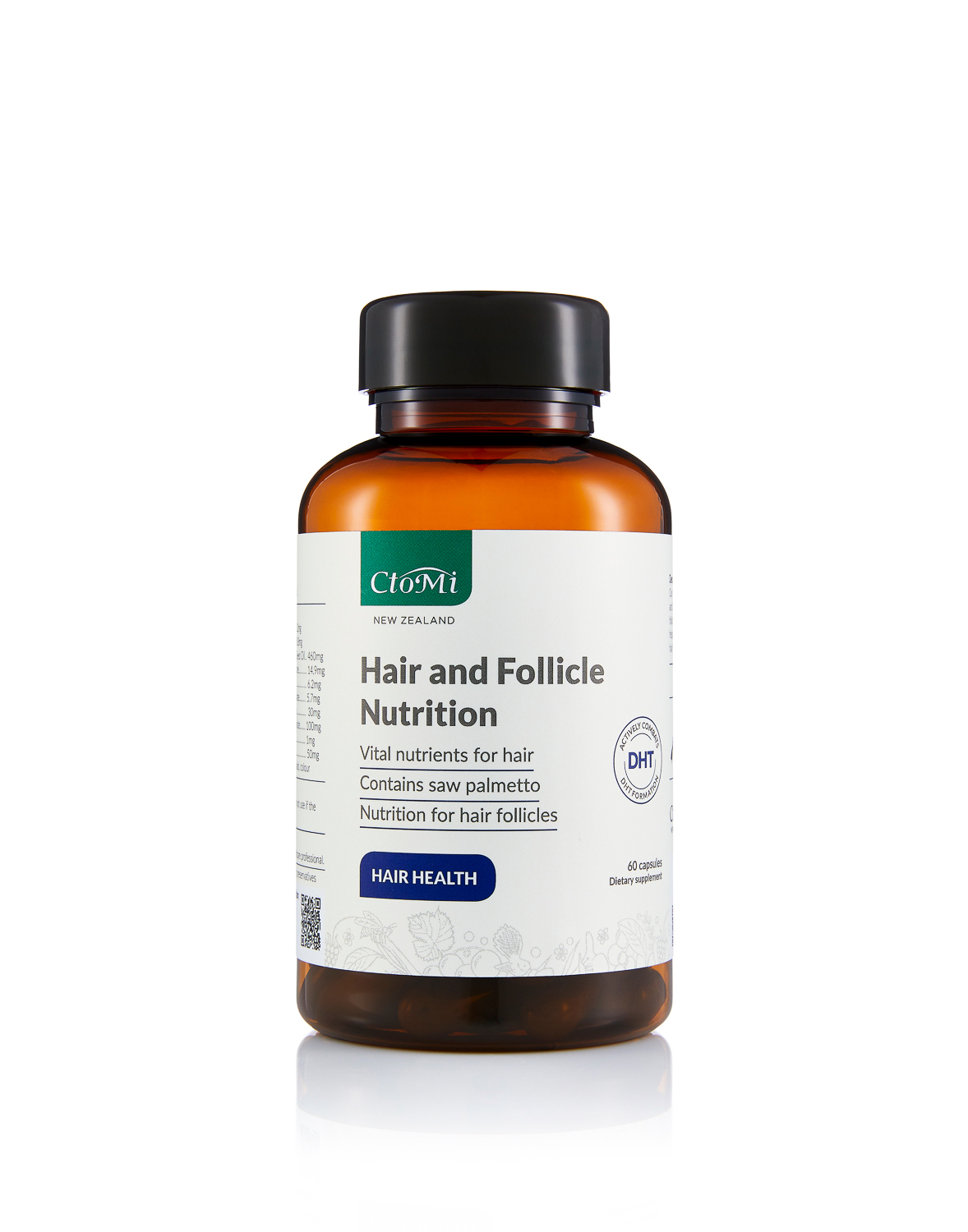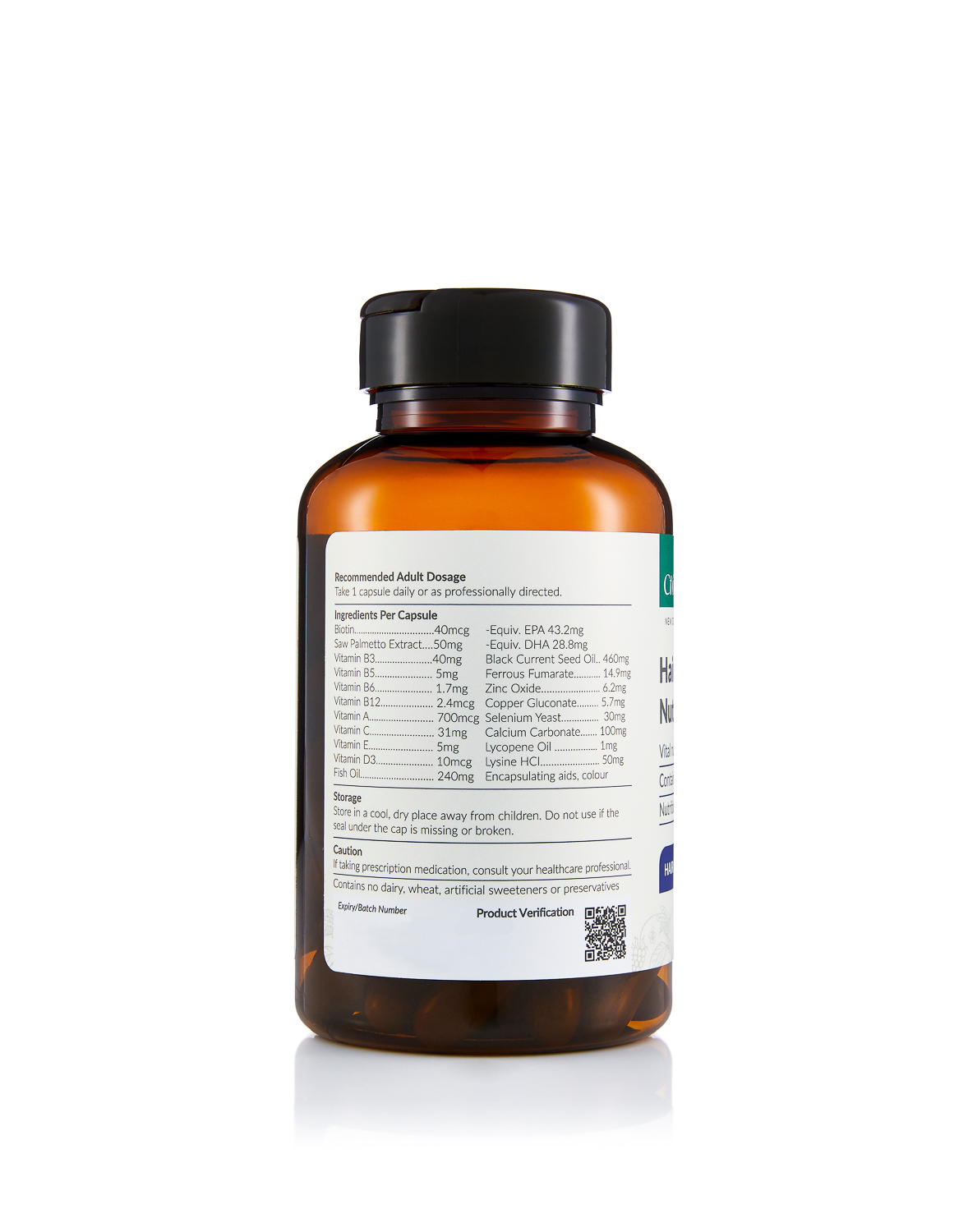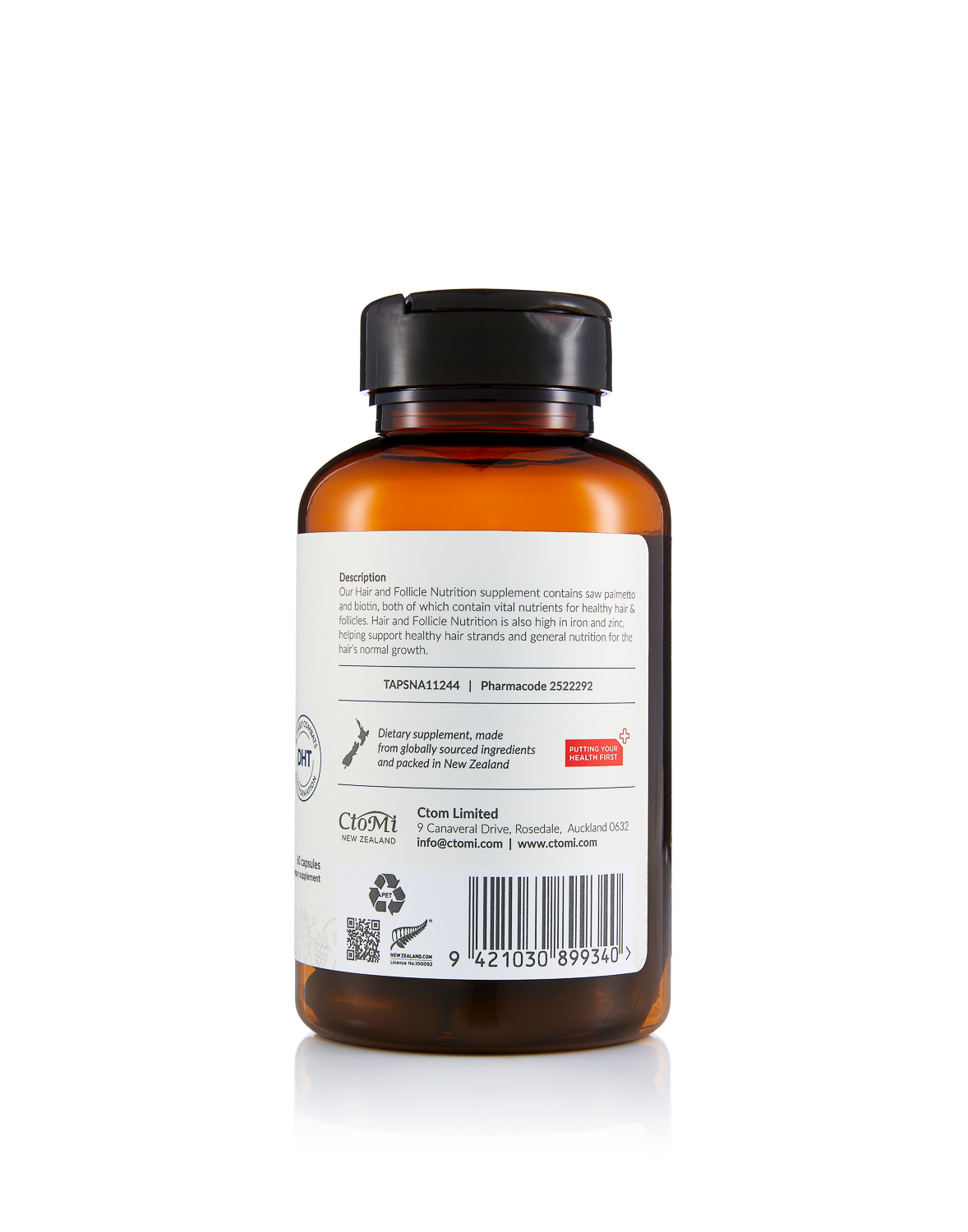 Product image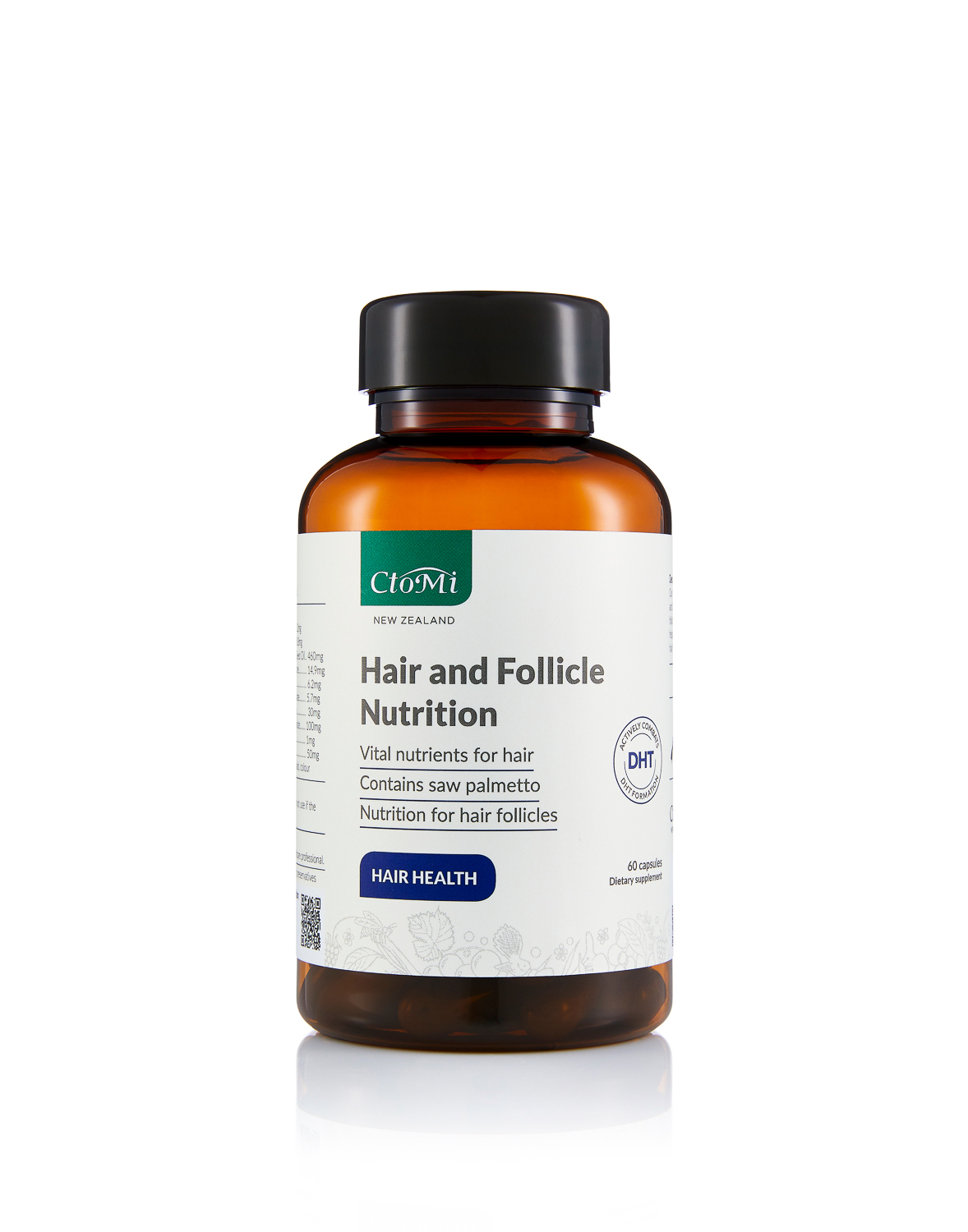 Product image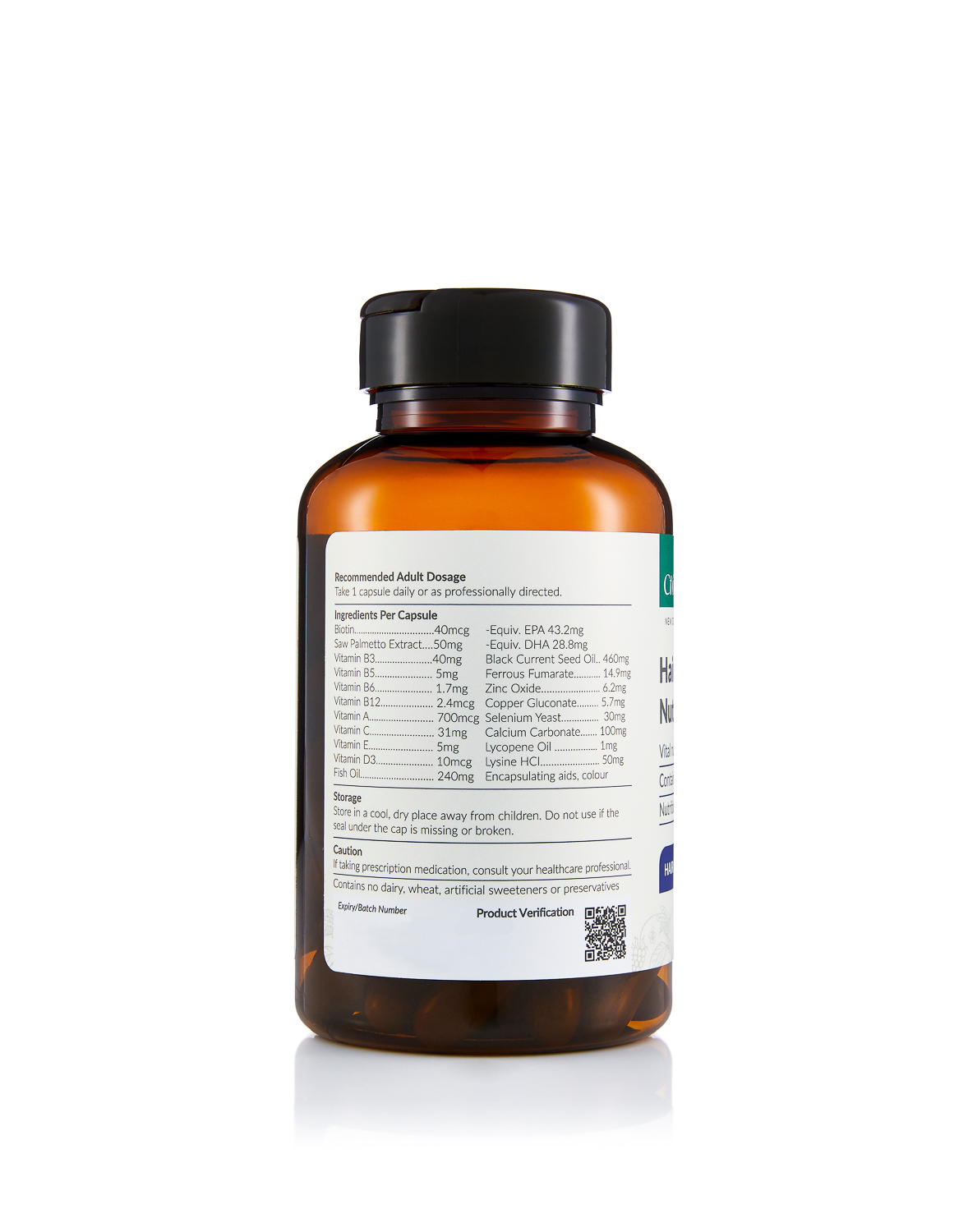 Product image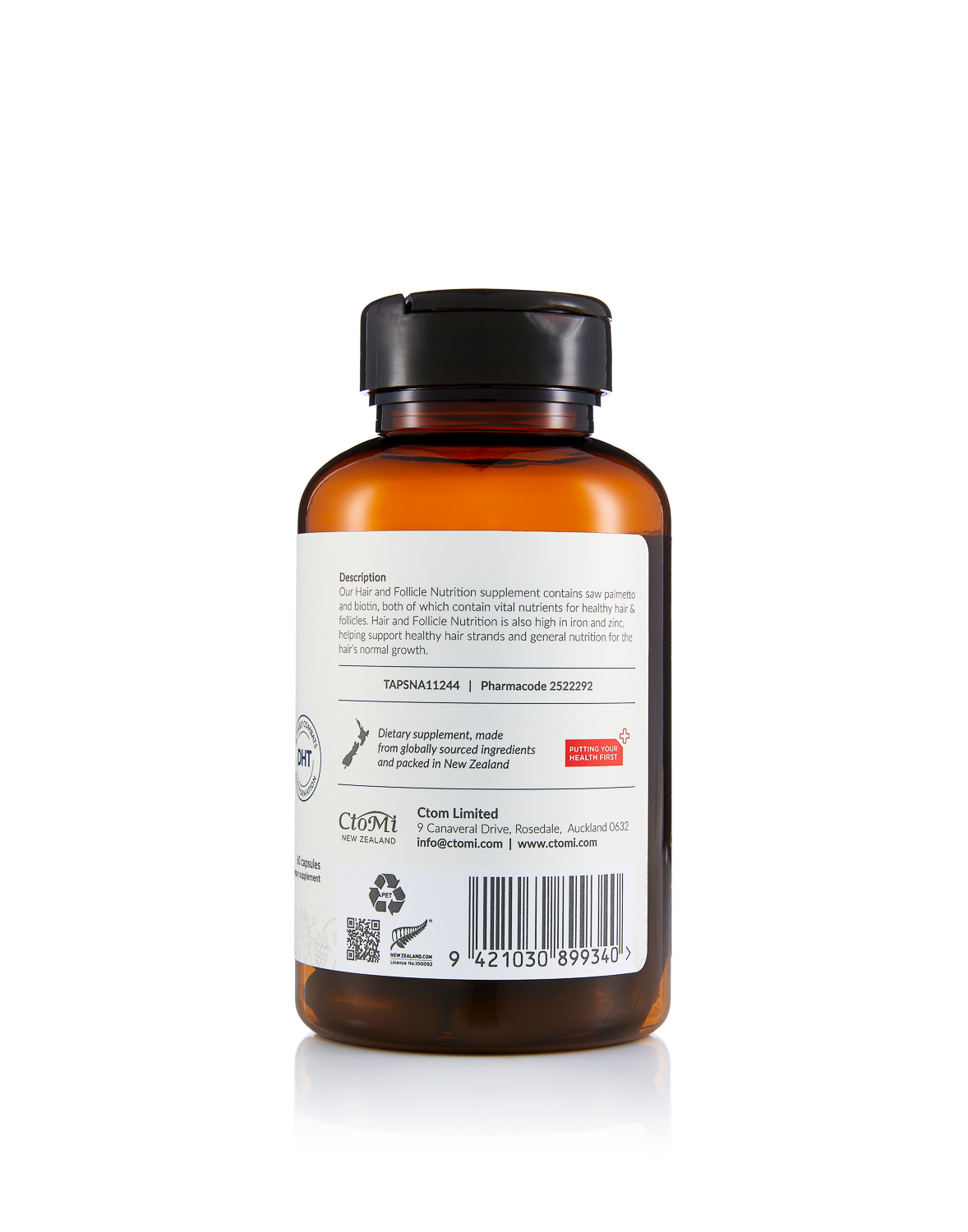 Overview
Our Hair and Follicle Nutrition supplement is rich in DHT blockers that help to retain and restore healthy hair and follicles. Alpha 5 reductase is a common enzyme produced within the scalp. As men age, their production of testosterone causes friction with alpha 5 reductase and DHT is produced. DHT eats away at hair, causing shrinkage and thinning, starving hair follicles and eventually causing hair to fall out.
Our Hair and Follicle Nutrition supplement contains saw palmetto and biotin, which aid to "block" the friction between alpha 5 reductase and testosterone, helping to limit the formation of DHT. For optimal results, use with our Ctomi Hair Growth Shampoo and Follicle Booster Serum.
Highlights
Helps to limit the formation of DHT
High in iron and zinc
Promotes healthy hair and follicles
Helps to encourage new hair growth
Ideal for people who

Are experiencing thinning hair or hair loss
Want to maintain optimal hair and follicle health
Are looking for a non-prescription supplement
Directions
Take 1 capsule daily. Do not exceed recommended dose.
Ingredients
Each Capsule Contains:

Biotin 40mcg
Saw Palmetto Extract 50mg
Vitamin B3 40mg
Vitamin B5 5mg
Vitamin B6 1.7mg
Vitamin B12 2.4mcg
Vitamin A 700mcg
Vitamin C 31mg
Vitamin E 5mg
Vitamin D3 10mcg
Fish Oil 240mg
- equiv. EPA 43.2mg
- equiv. DHA 28.8mg
Black Current Seed Oil 460mg
Ferrous Fumarate 14.9mg
Zinc Oxide 6.2mg
Copper Gluconate 5.7mg
Selenium Yeast 30mg
Calcium Carbonate 100mg
Lycopene Oil 1mg
Lycine HCI 50mg

Encapsulating aids, colour
Precautions
Always read the label. Take only as directed. Keep out of reach of children. If pregnant, lactating or taking prescription medication, consult your healthcare professional.
Triple Guarantee
1. Free and easy returns
If you are not 100% satisfied with your purchase for any reason, you can return it within 30 days for a full refund

2. Safe with us
Our website is 100% verified and all transaction and customer information is securely encrypted with the latest technology

3. Have a question?
We have a helpful customer service team who live and breathe Ctomi email info@ctomi.co.nz
Delivery Information
At Ctomi, we make things easy. Shipping is free for orders over $50 and for orders under this amount, shipping is as cheap as chips.
All orders leave our premises on the next working day.
Ctomi is a NZ owned and operated business, operating out of our HQ at 9 Canaveral Drive, Rosedale, Auckland
reviews